New Year begins with Board Meeting...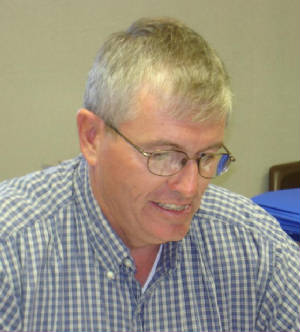 Lions Club President Tim McConaha
The Centerville Lions Club ushered in its new year by holding an organizational board meeting Monday night, August 21, at the Centerville-Abington Community School Administration Building. President Tim McConaha led the meeting covering topics such as participation in the Archway Days Festival and program schedule for the coming year.
In other action, the board approved use of its Bingo equipment to the Archway Days Festival Committee and the purchase of Lions sympathy cards.
The next meeting will be the annual Steak Fry on September 11, with Lion Paul Elstro as chairman.
8/21/06

J.A. is Topic of First Meeting...
Deanna Beaman, Executive Director of Junior Achievement of Eastern Indiana since October, 2005 spoke to members of the Centerville Lions Club Monday evening, September 25.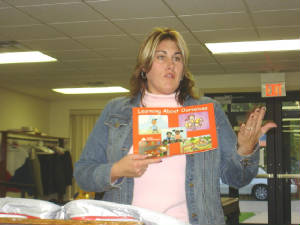 J.A. Executive Director Deanna Beaman
Beaman was General Manager of the Richmond Roosters Baseball Club before it moved to Traverse City, Michigan last year.
Beaman said J.A. of Eastern Indiana serves Wayne, Union and Fayette Counties reaching 4,800 students in 229 classrooms. The program also reaches kids through the Boys and Girls Clubs of Wayne County, IU East Kids College and Girls, Inc.
Beaman said the program reaches and impacts over 28% of the K-12th grades in the three-county area, which is above the national average of 8%.
She said over 200 business and community volunteers make the program work.
And she said $3,000 in scholarships were awarded to seven students.
9/25/06
PCI president Steve Slonaker addresses Lions...
Steve Slonaker, president of Promote Centerville, Inc., talked to members of the Centerville Lions Club Monday evening, October 9. Promote Centerville, Inc. is composed of businesses, organizations and individuals to promote Centerville and surrounding area.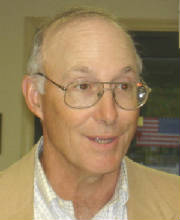 PCI president Steve Slonaker
Slonaker said the group was organized by Barbara and Jay Klehfoth a couple of years ago. A strategy plan was developed to include public awareness of businesses and area amenities.
Slonaker pointed to the web site, the monthly Centerville Connection Newsletter, a town brochure, billboards, flower pots and banners. He said PCI is looking at installation of historic street lights and additional signage to compliment the National Road signs.
PCI will hold its first annual meeting on November 6 at the Palais Royal Cafe.
10/9/06
Andrews says the Chamber supplements economic development efforts...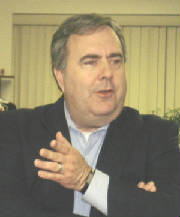 Dennis Andrews, president and CEO of the Richmond/Wayne County Chamber of Commerce, spoke before members of the Centerville Lions Club Monday evening, October 23. Andrews said the Chamber tries not to duplicate, but complement the economic development efforts of the Economic Development Corporation of Wayne County. He says they strive to identify niches which the EDC doesn't cover.
Andrews said the Chamber will become "more engaged" in economic development in coming years.
The former Wayne County Sheriff and Richmond mayor said the Chamber is also an advocacy group for business. And he will chair an upcoming Health Care Task Force to determine area health costs and will provide that information to its members.
The Chamber is privately funded through memberships.
10/23/06
Halloween Party...
Around 200 children and parents poured into the Centerville Elementary Gymnasium Tuesday evening for the annual Centerville Lions Club Community Halloween Party.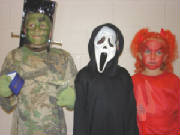 Three of the costume winners
Kids of all ages participated in games situated around the gymnasium walls.
Donated cakes, cupcakes and cookies were given away at intervals during the ever- popular Cakewalk, emceed by Lion Jim Resh
Costumes were judged in several categories by members of the Leos Club.
The Lions Club sponsors the party each year that coincides with the Trick or Treat Night in Centerville.
10/31/06
Easter Seals Programs Explained...
Easter Seals Executive Director Pat Bowers explained programs and services provided by Easter Seals Wayne and Union Counties Monday evening, November 13.
Speaking at the Lions Club meeting, Bowers talked about services offered and how they are funded. Bowers said there are four main programs: medical supplies and equipment, camping programs, patients services and education awareness.
They are paid for through several funding raising activities including theTurkey Chase 7K Race, 4-H Fair Pizza Booth, Clue Hunt and United Way.
The Lions Club voted to give Easter Seals $150.
11/13/06
Lions Club Float in Christmas Parade...
The Lions Club participated in the Centerville Christmas Parade Saturday evening, December 9. Lion Phil Benedict's grandson Tyler pulled the float which included the Club's famous Lion and passenger Sam Shaw.
Main Street was lined with Christmas revelers for several blocks. The highlight of the parade was a float with Mr. and Mrs. Santa Claus.
The Lions Club also sold Christmas wreaths, which were sold in a matter of minutes.
12/9/06
Something Good Singers entertain Lions...
The Something Good Singers from Eaton, Ohio entertained Lions and their guests at the group's annual Christmas Dinner Monday evening, December 11, at the Centerville High School Cafetorium.
This group of 9 young women has entertained throughout
Eastern Indiana
and
Western Ohio
for a number of years.
Two new members in inducted into the club by President Tim McConaha. They were Wendy Kornman and Robert Moore.
Lion Jim Resh received from PDG Jack Buckland the "Certificate of Club Secretary Excellence" signed by then (2005-06) District Governor Earl Whipple.
And four new members of the Leo Club at Centerville Senior High School were inducted. (See Members List)
Lion Resh Recognized...
Lion Jim Resh, who retired after serving 37 years as secretary of the Centerville Lions Club, has finally received the District Governor's "Certificate of Club Secretary Excellence."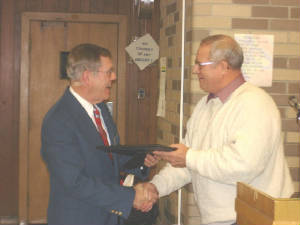 Lion Jim Resh (l) receiving award from PDG Jack Buckland
The award, presented by PDG (2002-03) Jack Buckland of the Richmond Club on behalf of Earl "The Whip" Whipple, who was 2005-2006 District Governor, was in recognition of dedicated service and willingness to serve others in fulfillment of the Humanitarian Principles of the International Association of Lion Club as a club secretary Performing with Excellence.
12/11/06
District Governor makes official visit...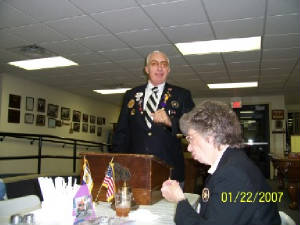 District Governor Carlos Dieckmann
25F District Governor Carlos Dieckmann paid an official visit to the Centerville Lions Club Monday evening, January 22. Dieckmann said had words of encouragement to members. He also thanked the club for what it is doing and to keep it up.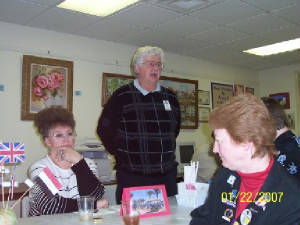 PDG Earl Whipple
Past District Governor Earl "the whip" Whipple told Lions of a pipeline that is planned to go through Camp Woodsmoke. He said a petition will be available for Lions to sign at the at the Cabinet Meeting this Sunday (Jan 28).
It was reported that Lion Mark Robbins remains hospitalized and that Lion Pam Farmer may be facing gall bladder surgery.
1/23/07
2007 Community Awards Presented...
Community Awards for 2007 were presented by the Centerville Lions Club Monday evening, February 12. Committee members, Jim Howell, Phil Stevenson, Tim Hill and Joe Elstro introduced the winners. They were: Gene Kates, Centerville Building Commissioner; Jay and Barbara Klehfoth, Model T Ford Club of America; Steve and Lisa Slonaker, business and country market; and Lion Robert Hobson recieved the Club Award.
Lion Jim Resh introduced an
d recognized 36 past winners. Over 100 attended the annual event, held at the Centerville High School Cafetorium.
2/12/07
County Assessor speaks to Lions...
Wayne County Assessor Mike Statzer
Wayne County Assessor Mike Statzer addressed members of the Centerville Lions Club Monday evening, March 12. Statzer explained why the assessment procedure is causing a delay in the mailing of county property taxes this spring. He said it was not just Wayne County that is experiencing the delay.
Statzer explained that Wayne County has a new structure for doing assessments based on market value of property. He said we could go to the internet to find not only what the assessment of our property was but also that of our neighbors. By doing this we could get a better look at the values in our neighborhoods.
Following the program, members voted on several issues.
$100 was approved for each of nine state projects. Approval was granted to donate $175 to the Centerville Youth League (CYL) and $300 for the Lions Vision Van.
3/12/06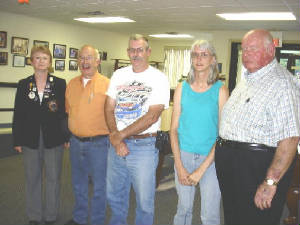 Left to right: Malynda Clevenger, Allan Spencer, Jim Scott, Jill Moore and John Prall
Two new members were inducted into the Centerville Lions Club Monday evening, June 11. District 25F Cabinet Secretary Malynda Clevenger inducted Jill Moore of Cambridge City and Jim Scott of Centerville. Jill's husband, Robert Moore, joined the last December. Jill was sponsored by John Prall and Jim was sponsored by Allan Spencer.
6/11/07
Conservation Connection...
Vectren Energy Delivery has started a program to save energy. Called Conservation Connection, it encourages users to use less gas and electricity.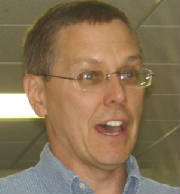 Vectren representative Randy Crutchfield from the Noblesville office spoke to members of the Centerville Lions Club Monday evening, May 14. He said customers are provided the tools to use while letting the utility recover operating costs and earn a fair return. He said gas costs represent from 75 to 80 percent of winter gas bills. Crutchfield said the tools focus on lowering customers' gas costs.
Vectren Energy Delivery serves around 560-thousand gas customers in the North region (Indianapolis including the Richmond area) and 318-thousand in the Ohio area. The southern area has 112-thousand gas and 140-thousand electric consumers. The firm's headquarters are located in Evansville.
The club also heard from Kim McConaha... daughter of Lions President Tim McConaha. A 2001 graduate of Centerville High School, Kim told of playing volleyball at Purdue University for four years... and then her chance to play in Europe. She was a member of a team in France... then conducted volleyball camps in Houston, Texas and in Oregon. She then joined a Spanish team. She's home for the summer considering her options for the continuation of her volleyball career.
5/14/07
Sheriff speaks to Lions...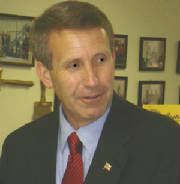 Sheriff Matt Strittmatter stressed the importance of the JACY House as he talked to members of the Centerville Lions Club Monday evening, April 23. JACY House is a center that provides a unique approach to the investigation of child abuse cases in Wayne County. It is governed by the Justice and Advocacy Center for Youth.
Strittmatter said it was created by then prosecutor Dave Kolger in 2003. In a home like atmosphere, investigators strive to reduce trauma to a child. Since it's inception, he said no cases that have gone through the JACY House have gone to trial. 240 Wayne County children were interviewed last year.
In answering a question from one of the Lions, he said the new 4-D Court, which will hear child support cases, will free up 1 1/2 days a week in each of the other county courts for other cases.
The Lions voted to give the JACY House a $150 contribution.
4/23/07
Chuck Magner brings information about Historic Centerville, Inc...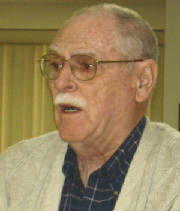 Chuck Magner, president of Historic Centerville, Inc. spoke before members of the Centerville Lions Club Monday evening, April 9.
Incorporated in 1971, HCI owns the Mansion House, Salisbury Log Courthouse and Railroad Shanty, all at the East Main street location. He said log cabin was built in 1811 and had been moved several times, before HCI acquired it in 1991. It had been used as a four unit apartment house at one time. The Mansion House dates back to 1840.
Supported by memberships and donations, the organization will hold its spring dinner April 26 with Earlham College professor Tom Hamm as speaker. Magner said anyone can attend. The organization's largest fund raiser is the soup supper during Christmas in Centerville in December.
4/9/06
Update on Reid Hospital...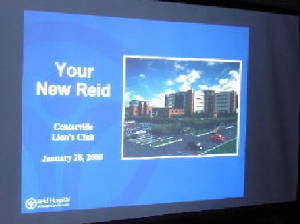 Jason Troutwine of the Reid Hospital Foundation presented an update on the New Reid Hospital currently in the final stages of construction in the northern section of the city to the Centerville Lions Club Monday evening.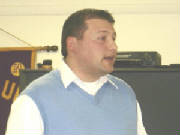 Troutwine, a former member of the Centerville Lions Club, said the patient tower is expected to be complete sometime in August or September. Several delays in construction set the date back from the original June date.
Troutwine presented a picture report of the construction along with drawings of what the patient tower will look like.
In other action, the Club voted to send the SightFirstII program around $200 raised during the Scavenger Hunt last fall. Another Scavenger Hunt is being planned for this spring to benefit the same program, which comes to a close in June.
And the Club approved payments to the various state project.
1/28/08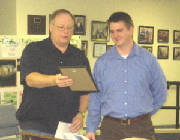 ice president Mark Robbins presents Ron Brown a certificate of appreciation for talking to the club
Ron Brown of the Wellness Center at Centerville High School spoke to Lions at their meeting Monday evening, March 10. He said most other schools don't have such programs.
Brown talked of the quality of the program that is open to all Centerville area residents. He said it is inexpensive when compared with other area facilities.
3/10/08
Almost a spiritual place...
Retired school teacher and former member of the Centerville-Abington Community School Board Darlene Moegerle brought her experiences of traveling to Antarctica to members of the Centerville Lions Club Monday evening, February 25.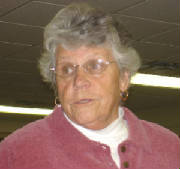 Moegerle described the stillness and quiet of the world's fifth largest of seven continents saying it was almost a spiritual experience for her. She has been traveling since the death of her husband and made the journey to Antarctica last fall. She said they stopped on two islands each day of the trip, sometimes visiting scientific venues. She said she saw many penguins and described the continents only bug called a midge... a small fly or gnat.
To get to Antarctia, the group she was with flew from the tip of South America across the Drake Passage. She said since all time zones meet at the South Pole, they go by New Zealand time.
2/25/08
New officers installed...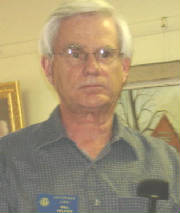 Lion Bill Felker
New officers of the Centerville Lions Club for 2007-2008 were officially inducted Monday evening, June 11. District 25F Cabinet Secretary Malynda Clevenger was in charge of the ceremony. The new president is Bill Felker, first vice president is Mark Robbins and second vice president is Kevin Sparks.
Other officers are Secretary Courtney Amos assisted by former secretary Jim Resh; Treasurer is Phil Benedict assisted by Jeff Nickell; Tail Twister is Tom Berhalter with Paul Elstro his assistant; and Lion Tamer is Allan Spencer with Charles Killen as assistant Lion Tamer.
Members of the board of directors are Jim Resh and Phil Golden, one year and Tim McConaha and Joe Elstro for two years.
6/11/07
Club sponsors Vision Van...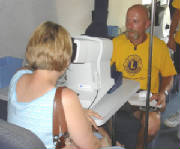 Lion Tom Berhalter checks one of the machines with his daughter
The Centerville Lions Club again brought the Lions District 25F Vision Van to the Archway Days Festival. The van was staffed by volunteers from the Centerville Club who did eye exams.
Persons who visited the van were given reports to take to their eye doctor. The van was at the festival Friday and Saturday, August 24 and 25.
8/26/07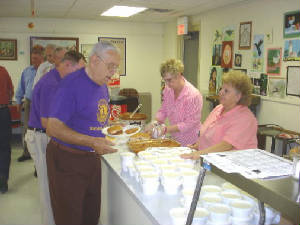 Darlene Robbins (r) and Linda Erk of the Shake Shoppe are back with us this year to serve us some delicious meals. That's Lion Charlie Killen with his Lions Club T-shirt going through the line.
Although Darlene's father, Frank Coyle, had died earlier in the day, she was there to serve about 30 members and guests Monday evening, September 24.
9/30/07
Four new members inducted...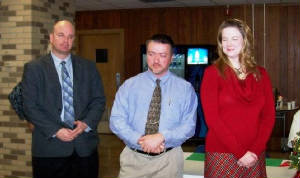 New members Kyle Turner, Mike Flanagan and Anne Allen
Four new members were inducted into the Centerville Lions Club at the annual Christmas Banquet Monday evening, December 10. They were Anne Allen, Mike and Liesl Flanagan and Kyle Turner. Lion Liesl was unable to attend in person. They all have been active in the club since last summer. Club president Bill Felker inducted them into the club and congratulated them into the club saying, "We are all extremely proud and happy to have you as members of the Centerville Lions Club."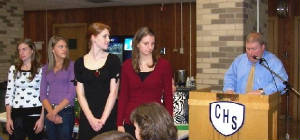 Bethany Moore, Kimble Slonaker, Randie Ferriell, Heather Moore and Lion Lee Reed
Officers of the Leo Club were inducted by Lion Lee Reed, assistant principal at Centerville High School and the club sponsor. They are Bethany Moore, president; Kimble Slonaker, vice president; Randie Ferriel, secretary; and Heather Moore, treasurer.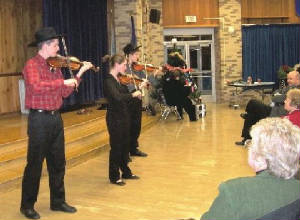 e Mossburg Violins perform a western number
The Mossburg Strings from Upland, Indiana performed after the induction ceremonies.
Widows of Lions Don Kehoe and Dr. Louis Lumpkin were special guests of the club.
12/10/07
Basketball coach looks ahead...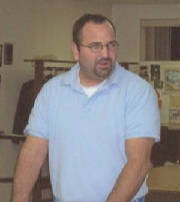 Centerville High School basketball coach Ryan Chiddister told the Centerville Lions Club Monday night that the team is in a building year. The team lost its first game of the season in three overtimes last week. Chiddester said he feels the team will play together very good this year. He handed out a roster of the team to club members.
11/26/07
Town Board president speaks...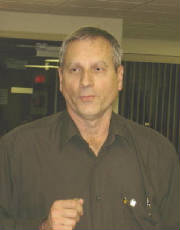 Centerville Town Board President Dan Wandersee painted an optimistic outlook for the area as he spoke before members of the Centerville Lions Club Monday evening, November 12.
Wandersee pointed to nearly 18 million dollars worth of infrastructure including water and sewer projects along Centerville Road to I-70.
He also said a Family Dollar store is expected to be under construction by January on U.S. 40, just east of Sullivan's Motorcycles. He said the former 84-Lumber Company property is being sold to Gilman Hardware. And he said an optometrist is expected to open a practice the first of the year.
Wandersee has been a member of the town board for twelve years.
11/12/07
CHS tennis team honored...

The 2007 Centerville High School tennis team was honored Monday evening, October 22, by the Centerville Lions Club.
Varsity coach Randy Ecker introduced the players: Jordan Sandlin, Tyler Markely, Brandon Ramsey, Conner Bane, Zach Sandline, Jake Davidson and Brandon Jones.
Ecker, with 26 years under his belt, said the game of tennis is one of the most difficult to master. One reason Centerville has been successful is due to the summer program starting in kindergarten. He also pointed to the team's worth ethic and pride in the program.
Varsity accomplishments this year were Merrillville Invitational Champions, T.E.C. Champions (7-0), 8th Consecutrive Championship (61-0) and 82-2 T.E.C. record (last 11 years). They were Sectional and Regional Champions. The team set a couple of school records: 17 shut out victories and 22-1 most team victories.
10/22/07
Community Service Awards...
Award recipients Jeff Cappa, Debbie Searcy, Dr. Robert Bode and Tom Williams
Community Service Awards were presented Monday evening, April 14, by the Centerville Lions Club. The awards were presented to Jeff Cappa of the Wayne County Sheriff Department, Debbie Searcy of the County Extension Office, Dr. Robert Bode and Deputy Sheriff Tom Williams.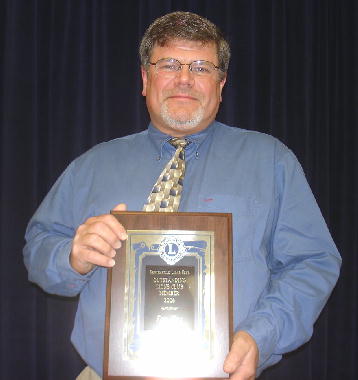 Lion Tim Hill
Lion Tim Hill received the Outstanding Lions Award. He has served on the Fish Fry Committee and works any way to make the club successful.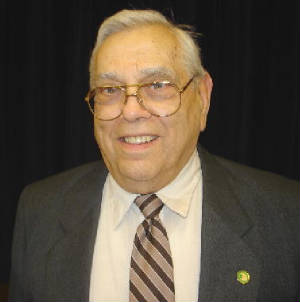 Lion Charlie Killen
Lion Charles Killen received a special award for being a 50 year member. He joined the club on April 29, 1958 and served as club president in 1962-63.
He was recipient of the Community Award in 1988 and again in 1996 with his son Gary Killen.
4/14/08
Nominating committee named...
Lions Club president Bill Felker has appointed a Nominating Committee to select a slate of officers for the 2008-2009 Lions year. The members are Jeff Nickel, Phil Benedict, Allan Spencer and Kevin Sparks.
Officers will be elected during the May 19 meeting and installed on June 9. PDG Jack Buckland of the Richmond Lions Club will install the new officers. He also will induct new member Jeremiah Taylor. Taylor's application was approved by the Board of Directors Monday evening, April 28.
The board also approved Linda Paddock to cater the remaining meals this year with the cost being $8.00. Darlene Robbins, who had provided the meals for the past year and a half, has joined Phillips Drugs and is no longer available.
The board also approved a $75 sponsorship of the Centerville Summer Basketball Camp. And $25 for a plaque to be given at the Centerville Classic Car Club during Archway Days in August.
4/28/08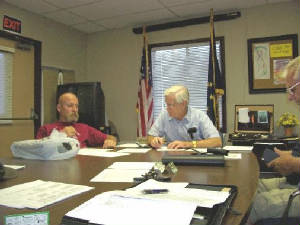 Lion Tom Berhalter (l) & President Bill Felker
The board of directors of the Centerville Lions Club met Monday evening, August 13, to look at the upcoming year.
The board approved a $50 donation to Archway Days along with participation in the festival from August 24 to 26. The District 25F Vision Van will visit the festival on Friday and Saturday, manned by Centerville Lions. And Lion Tom Berhalter will be heading up the parade committee.
SightFirst II chair Joe Elstro reported on plans to hold a Scavenger Hunt to raise funds for the program. The board set October 13 for the Hunt.
Club President Bill Felker appointed a two-member committee to look into the feasibility of resuming a golf scramble for next May. Lions Jeff Nickell and Kevin Sparks will make recommendations at the October 8 meeting.
Lion Felker appointed a five-member committee to organize and operate the next Fish Fry on June 13 & 14 next year. They are: chair Phil Benedict, Jeff Nickell, Tim Hill, Bob Hobson and Allan Spencer. The Fish Fry organizational meeting will be held on May 19 next year.
8/13/07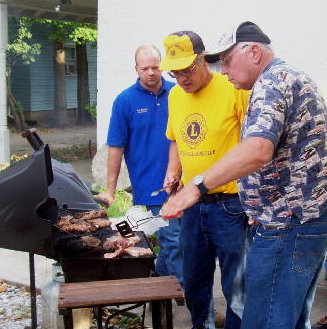 Joe & Paul Elstro prepared the steaks with Paul's brother. Paul's wife, Marie, made the fixin's
24 members and guests attended the Annual Lions Club Steak Fry Monday evening, September 8. It was held at the Old Log Cabin Courthouse behind the Mansion House.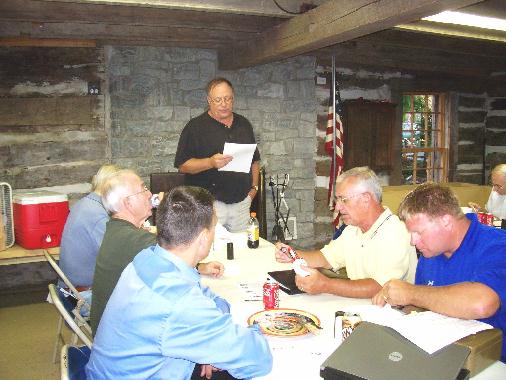 Lions President Mark Robbins conducted the meeting. He asked members to come up with a new project this year. Lions Secretary Wendy Kornman read minutes of the last three meetings, including the organizational board meeting held August 11 at which time the price for our catered dinners was increased to $9.00.
Fish Fry co-chair Tim Hill thanked everyone for helping with the fry. Lions Treasurer Tim Hill reported the club made $6,339 on sales of over $13,000 in meal tickets. Lion Charlie Killen sold the most tickets, $400 worth... followed by Lion Tim McConaha.
Lion Jim Howell reported the high school would like the club's participation in the Homecoming Parade, and Lion McConaha was appointed to head that endeavor.
It was announced that Lion Lee Reed has resigned as sponsor of the Leos Club at the high school.
September 17th is open house at Lucas Oil Stadium in Indianapolis for Indiana Lions. See Lion Phil Benedict for details.
9/8/08
Lion Tamer Paul Elstro fines president Felker, past president McConaha and treasurer Benedict
Officers for the 2008-1009 were elected by members of the Centerville Lions Club Monday evening, May 19. The meeting was held at the Log Cabin Courthouse.
Mark Robbins will head the club, assisted by 1st vice president Kevin Sparks and 2nd vice president Anne Allen. Wendy Kornman will become secretary replacing Courtney Amos, who becomes assistant secretary. Jeff Nickell is the new treasurer, assisted by former treasurer Phil Benedict.
Mike Flanagan will be the new tail twister, assisted by Paul Elstro. Allan Spencer and Charles Killen remain lion tamer and assistant lion tamer.
Past president Bill Felker and Mike Poynter will be two year board members, with Tim McConaha and Joe Elstro one year members.
The club finalized plans for the annual fish fry to be held July 24, 25 and 26.
President Bill Felker announced that members Jim Scott and Jud Costlow have resigned from the club.
5/19/08

Vision Van at Archway Days...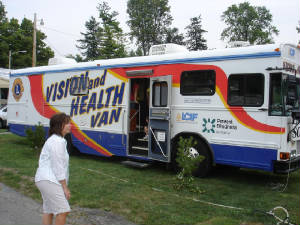 The Lions District 25F Vision Van is visiting the Archway Days Festival this weekend. Manned by Certified Centerville Lions, they screen clients for vision needs. And if tests show a need, they are referred to an eye specialist.
The Vision Van is just one of the many projects of the Centerville Lions Club.
8/25/06
Steak Fry Kicks Off New Year...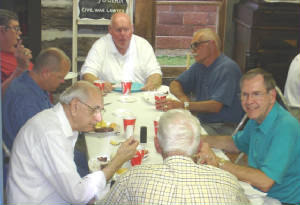 The Centerville Lions Club kicked off the 2006-2007 year with its annual steak fry Monday evening, September 11. Members and guest gathered at the Old Log Court House behind the Mansion House in Centerville.
The first regular meeting of the year will be September 25 at the Senior Center. Guest speaker will be Deanna Beaman, executive director of Junior Achievement.
9/11/06
Longtime Secretary Retires...
Lion Jim Resh retired as club secretary at the end of the past year.
He was succeeded by Lion Courtney Amos.
While working at The Centerville Branch of 2nd Natl. Bank directly out of high school in 1958, Jim was asked by Lion Tom O'Neill to join the Centerville Lions Club in 1960. Harry Renschler was Lion President. Tom O'Neill sponsored him and in 1961 he was elected Secretary of the club for 2 years before he left for the U. S. Navy in 1963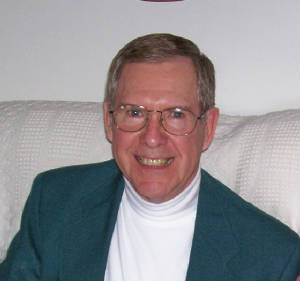 When Jim returned from the service, he took part in many of our favorite projects including the Fair Deal Project and the Bozo at the Fair.

He was elected Secretary again in 1971 when Keith Clark was our President and continued in that post for the next 35 years working with many Presidents and Boards.
Jim said he has enjoyed serving the Club and has seen many changes to the Lions record keeping over the years. He said, "We used to have to submit all forms handwritten, then by typewriter and now computer. I found out the Secretary of each club is very important and keeps the club up to date with the International Office."
Jim visited the headquarters of Lions International in Oak Brook, Illinois in 2000 and has met several of the International Presidents over the years along with International Directors.
Jim said, "The most rewarding experiences I remember over the past 35 years of service are the fellow Lions I have served with. Several are no longer with us and I am privileged to have known these fine members and all the members of the club. I feel we have one of the most active and friendly clubs in the district and all our members mean a great deal to me."
Jim said he looks forward to continuing his membership in the Centerville Lions Club and working together with fellow Lions to make our motto come true.....We Serve.
9/21/06
Board Considers Golf Scramble...
The Centerville Lions Club Board of Directors discussed continuing the Don Kehoe Memorial Golf Scramble for next year. It was cancelled this year due to conflicting with the Archway Days Festival at the end of August.
Members discussed possibly having the event the first of May. A decision will be made at a later meeting after several golf courses are contacted.
Earlier, in the regular meeting, Lion Joe Elstro talked of having a Scavenger Hunt, with proceeds going toward the Sight First II program. It would be held sometime in 2007.
9/25/06
Lions brought up to date...
Centerville Lions were brought up to date on the Leos Club, Halloween Party, Golf Scramble and Community Awards Monday evening, October 9.
Lion Jeff Nickel said the new Leos Club advisor Lion Lee Reed has issued a call for new members. Leos have assisted the recent blood drive at the Christian Church and will help out with the Lions Halloween Party October 31.
Nickel reported on several golf courses for the annual Don Kehoe Memorial Gold Scramble next May 7. He suggested the Liberty Country Club.
Lion Jim Howell said nominations are being sought for the Community Awards banquet in February. Howell is being assisted by Lions Tim Hill and Paul Elstro.
10/9/06
Lion of the Week Returns...
The Lion of the Week returns to our meetings on November 13.

Lion President Tim McConaha has picked our newest member, Wendy Kornman, to begin the feature this year.
Lion of the Week was instituted by Lion Jud Costlow when he was president two years ago. He was the first to tell about himself and was followed that year by Phil Benedict, Jeff Nickell, Tom Berhalter, Roger Keep, Bob Hobson and Tim McConaha.
Lions of the Week last year were Mark Robbins, Courtney Amos, John Prall, Bob Blue, Joe Elstro, Jay Klehfoth, Nick Aughe, Charlie Killen and Allan Spencer.
Lions of the Week may also be seen on the Centerville, Indiana Lions Profiles website at http://centervillelions.tripod.com.
1025/06
CHS BKB Coach: We Should Have a Good Year...
Centerville High School basketball coach Ryan Chiddister says the team has a lot of experience coupled with new talent.
Speaking before the Centerville Lions Club Monday evening, November 27, Chiddister said the team has the most athleticism he's seen in his coaching at Centerville.
He said, "How they harness that athleticism will determine how well they do." He said it will be the coaches' hardest task.
Looking forward to the season that begins with a
Tri-Eastern Conference
game Friday at Northeastern, he said he doesn't want his players to become over confident at the first of the season. He said fthe TEC looks tough this year, but adds, "We should have a good year."
He has eight or nine returning on the varsity.
11/27/06
New property tax legislation causes anxiety for local schools...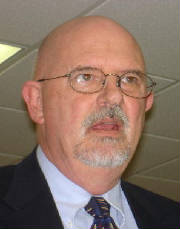 John Staats says the recently passed property tax legislation is causing uncertainty among local schools. Staats, president the Centerville-Abington Community Schools school board, spoke before the Centerville Lions Club Monday evening, March 24.
Staats says it provides for the state to take over 100% of funding for schools' general and pre-school special education funds. However, it leaves bus replacement, transportation, capital projects and debt service funds to come from local property taxes. Because of the tax caps he said the potential net effect is a $42,000 loss in 2009 and $293,000 by 2010. He said it is not known how much schools will bet at this time.
Staats says they are also concerned about talk of consolidation which was not addressed in the just completed session of the General Assembly. He says they have studies that show consolidation will not save money.. but could increase costs.
3/24/08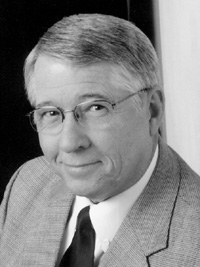 Lions Club International Immediate Past President Jimmy M. Ross of
Quitaque
,
Texas
will be the featured speaker at the Indiana Lions State Convention in
Fort Wayne
April 25-27.

Ross will speak at the Saturday evening All-State Banquet.

Ross is a rancher and a retired judge.
A Lion since 1969, Ross is a member of the Quitaque Lions Club and has held many offices. He also has been active in numerous professional and community organizations.
3/24/08
Lion Paul Elstro Recuperating at Home Now...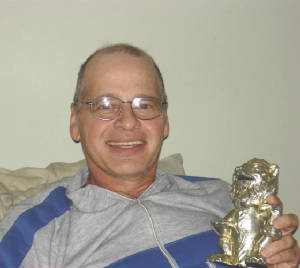 Assistant Lion Tamer Elstro is ready to fine fellow members
Lion Paul Elstro is now home recuperating from injuries received in a hit and run accident early in November. His son, Lion Joe Elstro, told members of the Centerville Lions Club Monday evening, November 27, that his dad is navigating in his wheelchair and will not be able to walk for at least three months.
Son Rob, Granddaughter Hannah and Paul, with their common hair cuts
Paul suffered multiple injuries, including fractures of both legs, when he was struck by a hit and run driver the evening of November 2. After undergoing surgery at Miami Valley Hospital in Dayton, he was transferred to Oakridge Rehabilitation Center in Richmond about ten days later, where he underwent physical therapy.
11/27/06
Lion Honored by Chamber...
Jim Resh, logistics coordinator for the Wayne County Convention and Tourism Bureau, is the latest monthly recipient of the Chamber of Commerce ONE Great Community Salute.
12/5/06
Wife of Lion Hurt in Fall...
The wife of Lion Jim Howell is recovering from a fractured left arm. Marge Howell underwent surgery at Reid Hospital in Richmond Monday (Nov 27) afternoon. She apparently fell while attending church services Sunday morning.
She returned home Friday evening. Lion Jim says she undergoes therapy several times a week.
Updated 12/28/06
Another Lion's Wife Hurt...
Evelyn Blue, the wife of Lion Bob Blue, has suffered a fractured leg. She fell at her home on Thursday, December 14. She was taken to Miami Valley Hospital in Dayton, where a steel rod was placed in her left leg on December 18. She was transferred to Oakridge Rehabiliation Center on December 22 where she is undergoing therapy.
Updated 12/28/06
Club holds short meeting...
The Centerville Lions Club held a short meeting Monday evening, February 11. Scheduled speaker Jason Searcy, coach of the Centerville High School girls basketball coach, could not appear due to illlness.
The club had a delicious meal of meat loaf, mashed potatoes and gravy, corn, roll and Valentine's Heart cake.
Several reports were given by various committees. The meeting adjourned early due to an impending winter storm.
2/11/08
Former Lions member dies...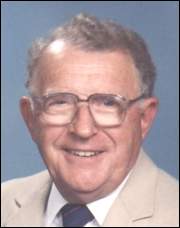 Former Centerville Lions Club member Wayne E. Tolen has died. He died Sunday, January 27, at Reid Hospital at the age of 86. He served as president of the Centerville Lions Club in 1981-82. Tolen retired as Centerville Postmaster in 1986. He served in the U.S. Army Air Corps during World War Two.
He is survived by his wife Mary Kaye, seven children, 19 grandchildren, one great-great grandchild and a sister.
Services were Thursday morning at 10 at St. Andrew's Catholic Church in Richmond, where he was a member. Burial was in St. Mary's Cemetery.
1/31/08
District Governor makes Official Visit...
District Governor Robert (Bob) Price made an official visit to the Centerville Lions Club Monday evening, January 14.
DG Price accepting Warm Glow Basket from Lions VP Mark Robbins
Price talked about district projects, outlining each one, including the Leader Dog School, LCIF, Vision Van, Cancer Control, Schools for the Blind and Camp Woodsmoke.
Lion Bob has been a Lion for over 20 years having perfect attendance all that time. A member of the Pike Lions Club, he has served District 25 as Zone and Region Chairperson several times. This is the second time he has served as District Governor, the first being in 1999-2000.
Other guests attending the meeting with Price were Cabinet Secretary Malynda Clevenger and her husband, Marc, who is Region 5 Zone B chair of Leadership Development and their two children, Steve Robbins, Membership Chair of Zone B and Region Chair Duane Nickels.
1/14/08
Fish Fry changed to July...
The 2008 Centerville Lions Club Fish Fry will be held on July 24, 25 and 26 in 2008. The Board of Directors approved the switch of dates in a special called meeting Monday evening, December 17 at the home of Club Treasurer Phil Benedict.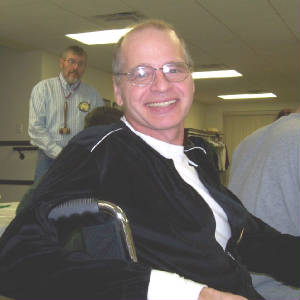 Lion Paul Elstro in his wheelchair
Board president Bill Felker said the change from June 13 and 14 is being made to correspond with the 100th Anniversary Celebration of the Model T Ford which will be held July 21 through the 26 in Richmond. The Model T Ford Club of America, headquartered in Centerville, expects several thousand persons to attend and many expect to visit eating places in Centerville during that time.
The board set serving times for Thursday at 11 a.m. to 2 p.m. and 11 a.m. to 8 p.m. on Friday and Saturday. Details will be worked out by the Fish Fry Committee.
Board members attending the meeting were President Bill Felker, Vice President Mark Robbins, Treasurer Phil Benedict, Lion Tamer Allan Spencer, Past President Tim McConaha and Jim Resh. Also attending were Assistant Tail Twister Paul Elstro and Lion Charlie Killen.
12/17/07
The New Reid Hospital to Open This Year...
Jason Troutwine of the Reid Foundation brought Centerville Lions up to date on the porgress of construction of the New Reid Hospital at its meeting Monday evening, January 8, at the Senior Center.
Subbing for Reid President Barry MacDowell who was under the weahter, Troutwine said some hospital facilities will open this year, with the Towers opening in 1008.
Over 250 new bees will make up the hsopital and a new auditorium and doctors facilities will be attached to the main building.
Jason is a former member of the Lions Club.
1/8/07
Youth as Resources Featured at Meeting...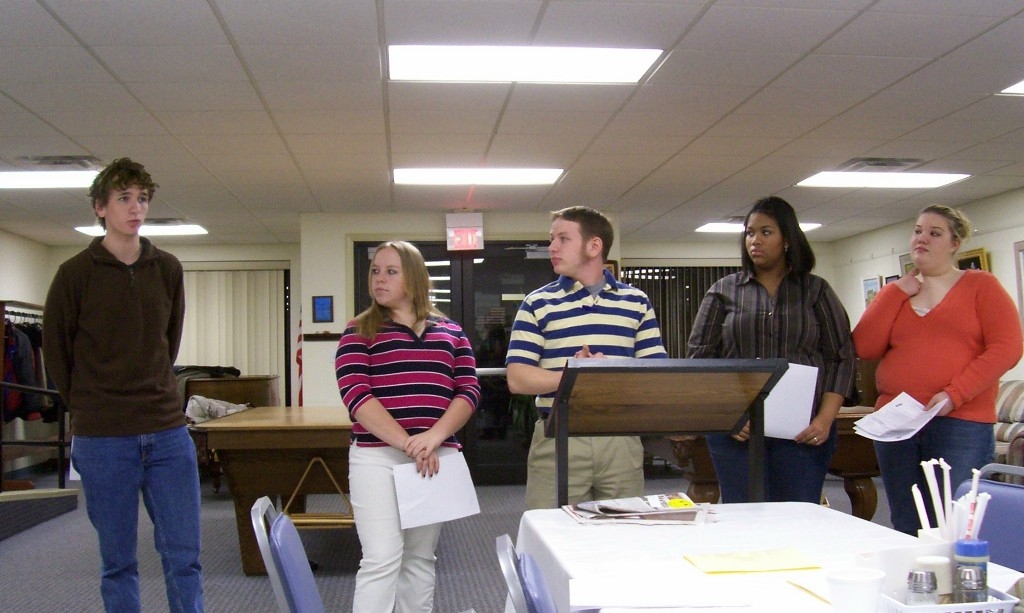 YAR students Stefan Roha, Elizabeth Shepherd, Nick Shepherd, Jolessa Wade & Meredith Wambo
Several students from Youth as Resources of Wayne County along with advisor Mary Jo Ward presented the program for the Centervillle Lions Club Monday evening, February 26. The students spoke of the programs and activities.
YAR began in 1986 as an initiative of the National Crime Prevention Council. It works with all five high schools in Wayne County.
They meet weekly at St. John Lutheran Church in Richmond. They provide grants up to $500 to young people to design and carry out community service projects. Youth are encouraged to be a positive influence in the community.
YAR is beginnng an Endowment Drive this spring.
2/26/07
Lions begin Membership Drive and change Caterer...
Meeting as the Board of Directors Monday evening, February 26, the Lions Club launched a membership campaign. Two groups will compete to bring in five members each. They are headed by Lions Courtney Amos and Tim Hill. The group bringing in the most will enjoy a steak dinner, with the other group eating beans.
In other action, the board voted to hire Darlene Robbins of the Shake Shoppe to cater our meals immediately. She will replace the Palais Royal Cafe, which wanted to end nearly two years of serving due to their business responsiblities.
The board also approved moving the annual Community Awards Banquet to the first meeting of April next year. It has been held the second Monday of February in past years.
2/26/07
WayNet's Jane Holman speaks...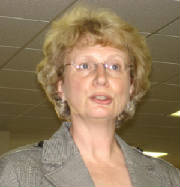 WayNet executive director Jane Holman told members of the Centerville Lions Club Monday evening, March 26, about the Wayne County Community web site. As the only director of WayNet since its inception in 1997, she said it's a means to tell people about Wayne County. The web site has all kinds of information about the county including tourism, economic development, local history as well as serves the public for employment and with links to regional and national sites.
The Lions Club is a member of the organization.
3/26/07
New Lion Jim Scott and his family in the foreground attend Lions Family Picnic
New Lion Jim Scott and his family were among those attending the Centerville Lions Club Family Picnic held inside the cool Rose Hamilton Elementary School cafeteria. It was hot and humid outside. After eating, LIons enjoyed playing Bingo... with members of the Scott family winning several times. Lots of prizes and soft drinks were won by the Bingo players.
Lions President Bill Felker presented Attendance awards to ten Lions attending: Courtney Amos, Phil Benedict, Bill Felker, Tim Hill, Jim Howell, Wendy Kornman, Robert Moore, Tim McConaha, Tom Berhalter and Allan Spencer. Those who were not present, Joe Elstro, John Prall, Mark Robbins and Paul Elstro, will be presented the pins later.
Lions Treasurer Phil Benedict reported a net profit of $3,789 from the recent Fish Fry... down $600 from last year.
6/25/07
Lions tour New Reid Hospital...
Six Lions and their wives and families toured the New Reid Hospital Thursday evening, June 28. They were taken through the Medical Building, which is already opened, the Outpatient area and In-patient building.
The Out-patient area will be ready for occupancy in July while the In-patient area will not open until next June.
There will be a public open house of the new facility on Saturday and Sunday, July 21 and 22 of this year. Once the areas are open for occupancy, there will be no tours.
6/29/07
Lions recall years of past...
Jim Resh narrating his slides
Besides being the Lion of the Week, Jim Resh showed some slides of years past in the Centerville Club. His slides dating back to the 1960s, included several projects.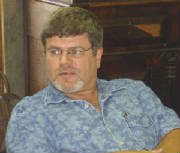 Lion Tim Hill
Fish Fry co-chairman Tim Hill updated the club on plans for the June 8 and 9 event at the Centerville City Building. Work schedules were passed out by Assignment chair Allan Spencer.
The Club also voted in as a new member, Jill Moore, whose husband Robert recently joined the club.
Other recent members are Anne Allen, Jim Scott, James and Liesl Flannagan and Kyle Turner. They will officially be inducted into the club at a later date.
5/21/07
Centerville Lion Pam Farmer named Orr Fellow...
Thirteen graduates from 10 Indiana universities including a Centerville High School graduate will spend the next two years working for some of the state's leading entrepreneurial companies as Governor Bob Orr Indiana Entrepreneurial Fellows.

Pam Farmer of
Centerville
will be graduating from
Hanover
College
and will be spending the next two years at BitWise Solutions.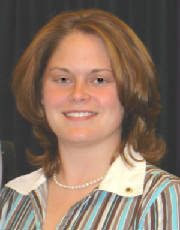 Centerville Lion Pam Farmer
She'll be moving to
Plainfield
after graduation.

Pam was the first female member of the Centerville Lions Club and was active in the club sponsored Leo Club while in high school. Lion Pam is the daughter of Lion Jack and Joyce Farmer.
Since its inception in 2001, the Orr Fellowship has worked to keep Indiana's best and brightest graduates in the state. The program has placed 54 graduates in leadership-track positions at 19 Indiana companies in the past six years. Autobase, BitWise Solutions and Collina Ventures joined the Fellowship this year as host companies.
"BitWise Solutions is thrilled to join the Orr Fellowship," said Ron Brumbarger, president and CEO of BitWise Solutions. "Attracting and retaining smart and talented people is key to the future success of BitWise, just as it is to the entire state."
The 2007 Orr Fellows competed against hundreds of applicants in a five-month process that included interviews by Orr Fellow company executives. Fellows are judged on academic performance, extracurricular involvement, demonstrated leadership potential, and previous job experiences. In their new positions, Fellows will complete challenging projects and work closely with company executives; attend monthly meetings with Indiana's most accomplished business leaders and participate in various philanthropic events and educational seminars.
The Orr Fellowship seeks to retain Indiana's top graduate talent and help sustain Indiana's economy. For more information, visit www.orrfellowship.org.
4/24/07
Scavenger Hunt disappointing...
The turnout for the first Scavenger Hunt was very disappointing. Chair Joe Elstro reports there were only seven individuals who took participated. However, he said they all had fun.
Only $140 dollars was realized from the fundraiser. It benefits the Campaign SightFirst II program of Lions International. Lion Joe said it was suggested we try again in the spring.
10/14/07
ISP Trooper speaks to Lions...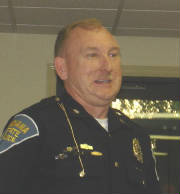 State Police Sgt. John Bowling
Indiana State Police Sergeant John Bowling spoke to Centerville Lions Monday evening, September 24. He showed a video on Indiana Law camps aimed at 7th and 8th graders. He said they teach life skills as well the criminal justice system.
Bowling also told of experience he has had during his sixteen years with the agency.
9/24/07
Halloween Party a success...
Halloweeners marching in the cakewalk circle
The cakewalk and games proved popular with those attending the annual Lions Club Halloween Party Wednesday evening at the Centerville Elementary gymnasium. There were four new games created by Lion Phil Benedict. Kids played at 12 games set up against the gym wall, including the ever popular electronic basketball game.
Costumes were judged in four age groups. Attendees enjoyed refreshments and all kids received a goody bag.
The Lions Club has held the party for many years which coincides with the town's Trick or Treat Night.
11/1/07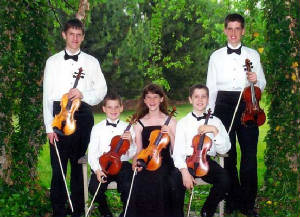 The Mossburg Strings will entertain Lions and guests at the club's annual Christmas Banquet on December 10.

Lion Jim Resh and his wife, Sandra, are chairing the event at the Centerville High School Cafetorium.
The Mossburg Strings is comprised of the oldest five of nine children in the Mossburg family; Caleb (17), Aaron (16), Rachel (15), Jacob (14), and Jared (12). They enjoy playing a variety of music styles including classical, fiddling, Christian, patriotic and oldies. They are from Uniondale, Indiana.
10/22/07
Marathon runner speaks to Lions...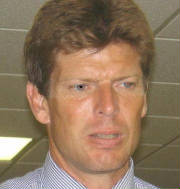 Marathon runner Cecil Franke
Marathon runner Cecil Franke told of his experiences in getting ready for the Olympic Trials on November 3 in New York to Centerville Lions Monday evening, October 8. He runs in the morning... teaches social studies at Centerville High School during the day... coaches cross country and runs again in the evening. He also runs during the weekend over county roads, primarily in the western part of the county.
The 39 year old won marathons in Cincinnati and Columbus, Indiana last year with his fastest time being two hours and 18-minutes in the latter. He came in as the 2nd American in the last New York Marathon. To quality for the Olympics, Franke believes he needs to run the 26 miles around 2 hours and 14-minutes.
Club president Bill Felker presented veteran member Charlie Killen with an attendance award. Lion Charlie has been a member of the Centerville club since April of 1958 and served as president in 1962-63.
Campaign SightFirst II chair Joe Elstro urged members to promote the Scavenger Hunt scheduled for Saturday, October 13. Proceeds will go toward the international sight saving endeavor.
10/8/07
Large turnout for Steak Fry...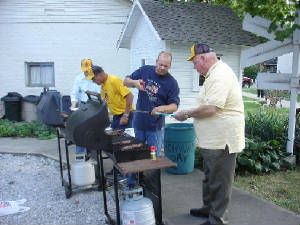 Lions and guests filled the Old Log Courthouse Monday evening, September 10, for the club's annual steak fry. The picture shows Lion Bob Blue being served by Lion Paul Elstro, while Paul's son Lion Joe places a steak on the plate of Lion John Prall.
Lions President Bill Felker presented attendance awards to Lions Joe and Paul Elstro, John Prall and Mark Robbins.
The steak fry opens the 2007-2008 Lions year. The next meeting will be September 24 at the Senior Center.
9/1/07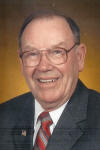 Lion Merle Goldman has been elected to be District 25-F Governor for 2008-09.

Goldman and his wife, Nancy, are members of the Indianapolis Washington Township Lions Club.

He was a teacher at the
Indiana
School
for the Deaf from 1957 to 1993.

He and his wife have three sons.
The new Vice District Governor-elect is John Scott. He and his wife, Linda, are members of the Decatur Central Lions Club. Lion John is an accountant with Customs and Border Protection with the Department of Homeland Security. He
and his wife, a school teacher, have two children and three grandchildren.
The elections occurred at the March 2nd 25-F District Convention.
5/8/08
New member installed at annual pitch-in...
Jeremiah Taylor was inducted into the Centerville Lions Club before a crowd attending the club's annual summer pitch-in. About 24 Lions and guests attended the event at the Centerville Junior High School gym.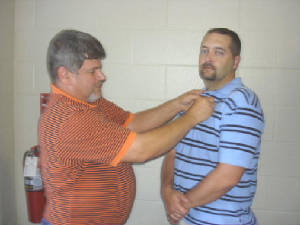 New Lion Jeremiah Taylor receives Lion pin from Sponsor & Dad Tim Hill
Jeremiah lives in Richmond with his wife, Odessa, and commutes to work at Indianapolis every day. He recently left the armed services to return to civilian life. His father is Lion Tim Hill and his grandfather is Lion Tom Barker. You could say that's three generations from the same family in the club.
Lion Warren Gariess was caught going back for seconds.... maybe thirds?
Membership Key Awards were presented to two Lions. Joe Elstro received his pin for opening the door to Lionism to Liesl and Mike Flanagan and Anne Allen. Tim Hill received his for sponsoring his son, Jeremiah Taylor. Lions President Bill Felker expressed sincere congratulations to them from the officers and directors of Lions Club International for demonstrating active commitment to the growth and strength of the association.
Felker also presented attendance awards to 18 Lions... nine of whom were at the pitch-in. They were Tim McConaha, Joe and his dad Paul Elstro, Wendy Kornman, Mike Poynter, Bob Blue, Tim Hill, Mark Robbins and Bill Felker. The others will get their pins at a later meeting. They are Courtney Amos, Phil Benedict, Jill and Robert Moore, Jeff Nickell, Mike Flanagan, John Prall and Jim Howell.
President-elect Mark Robbins announced that his wife, Darlene and Linda Erk, will be catering the Lions Club meeting this coming year. Although Darlene has a full time position with Phillips Drugs, she and Linda have reserved Mondays for our meetings.
After business, Robbins turned the pitch-in over to Joe Elstro, who called Bingo until his voice cracked and nearly failed several times.
6/23/08
New officers installed...
Left to right - M Robbins, W Kornman, J Buckland, B Felker, K Sparks & A Allen
New officers were installed Monday night, June 9, by Past District Governor Jack Buckland of the Richmond Lions Club. They take office on July 1.
Lion Buckland gave each a lighted candle to hold while he explained the various officers duties. Mark Robbins assumes the presidency, assisted by first and second vice presidents Kevin Sparks and Anne Allen. Wendy Kornman replaces Courtney Amos as secretary, who now become her assisstant. Jeff Nickel, who was ill and could not attend the meeting, is the new treasurer and will be assisted by outgoing treasurer Phil Benedict.
Mike Flanagan is the new Tail Twister, assisted by Paul Elstro. Allan Spencer and Charlie Killen remain as Lion Tamer and Assistant Lion Tamer.
Past President Bill Felker and Mike Poynter will be two year board members and Past President Tim McConaha and Joe Elstro will be one year members.
6/9/08
Scavenger Hunt aids SightFirst II
Six teams of four persons hunted for items in the Second Lions Club Scavenger Hunt Saturday afternoon, April 26. Team members paid $10 apiece to participate. The $195 in proceeds will go to the Lions International SightFirst II program to eradicate blindness.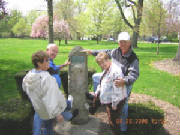 The team of Spencer and Benedict found the kicking stone at Earlham College
The teams travelled from Centerville through Richmond to Abington to solve the clues that were given to them. They found everything from a 30-foot candle to kicking stones. The had trouble, though, finding a purple car and an old Volkswagen Beetle.
After the Scavenger Hunt, they gathered at the Mansion House in Centerville for a pitch-in dinner and for presentation of awards.
The event was coordinated by Joe Elstro and Paul and Marie Elstro.
4/26/08
Tourism brings many visitors to Wayne County...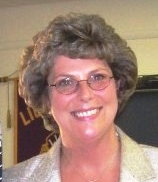 Mary Walker, executive director of the Richmond/Wayne County Convention and Tourism Bureau was guest speaker for the Centerville Lions Club Monday evening, May 12.
Walker spoke of the many attractions Wayne County offers, including the antiques and history of Centerville, Levi Coffin Home, Huddleston House and the Whitewater Gorge in Richmond. She also told that between 12,000 and 15,000 people visit the Welcome Center each year. Many visitors are drawn to Wayne County because of special events, such as the Model T Ford 100th celebration in July in which over 800 Model T's will be present.
She invited members to visit the Welcome Center, 5701 Natl. Road East, Richmond and handed out brochures of the Model T event for volunteers to help.
5/12/08