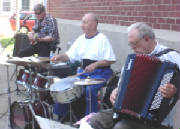 Musicians entertaining fish fry patrons
The 30th annual fish fry saw fewer eaters this year. The date (June 19-20) was moved a week later than usual, following the change last year to July to accomodate the national Model T Party last year. The committee moved the date due to members being unable to attend the second week of June. But some members said that could have been a mistake, since the Wayne County Fair opened on Saturday.
The fish fry is the club's major fund raiser.
6/21/09
New officers installed...
Officers for 2009-2010 were installed by District Governor Merle Goldman at the Senior Center, Monday, June 8. Incoming president Kevin Sparks was on vacation and unable to attend.
President Mark Robbins presented Lion Jill Moore a plaque of thanks for serving as advisor to the Leos Club at Centerville High School.
The Club approved a $100 donation to Archway Days.
It was also noted that two $350 scholarships were presented to Heather Moore and Josh Messer during the Honors Program at the high school on May 30.
Lion Phil Benedict updated members on the Fish Fry coming up June 19 and 20.
The club also thanked Darlene Robbins and Linda Erk for serving our meals for the past couple of years. The club will be seeking a replacement for the next year.
6/9/09
Lions updated on Reid Hospital...
Jason Troutwine of the Reid Hospital Foundation updated members of the Centerville Lions Club on Reid Hospital Monday evening, April 27. The new hospital opened last year.
Troutwine, who addressed Lions last October 27, said problems with information services at the entrances to the main building and emergency department are being addressed. He said new information desks are being designed and will be staffed with volunteers to direct the public to where they want to go.
He said the hospital has had a 99% capacity at times... due to the flu and economic conditions.
He said the Foundation has contributed 20% of the cost of the 318-million dollar hospital and will launch a new campaign for programs in the near future.
4/27/09
2009 Community Awards presented...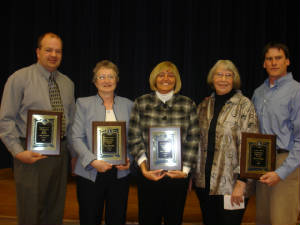 2009 winners Joe Elstro, Pat Bowers, Anna Lohmoeller, Sue and Scott Wheeler
Five individuals were awarded Centerville Lions Club Community Awards Monday evening, April 13. From 1986 through 1997 awards were presented in catagories such as farmer, educator, citizen, service and business. But, in 1998 the awards were made simply as Community Service Awards.
2009 recipients are Lion Joe Elstro, Pat Bowers, Anna Lohmoeller and Sue Wheeler and her son, Scott.
A Centerville High School and Purdue University graduate, Lion Joe is active in the community including the Lions Club. Pat Bowers retired this spring as executive director of Easter Seals Wayne and Union Counties. She initiated several programs including the Disabiliy Awareness classes in the all the counties schools. Anna Lohmoeller has been active in several community projects including collecting clothing for the needy, the Genesis Program, Hope House, food bank and Recycling for the Green Earth Program. And Centerville antique dealers Sue Wheeler and her son, Scott, have been active in many community projects including Promote Centerville, Inc.
4/13/09
Lions tell of trip to Middle East...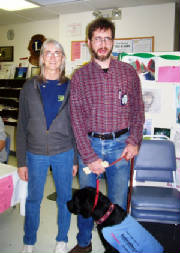 Lions Jill and Bob Moore with Thunder
Centerville Lions Club members Jill and Bob Moore addressed the club Monday evening about their trip to Bahrain in December. Their daughter, Kate, is a teacher at the American School there. She's been a teacher there for the past three years.
The Moore's also brought along Thunder to the meeting. He's their new Leader Dog in training.
A couple of members of the Leos Club were guests of the club. They were President Heather Moore (no relation to the Moore's) and Austin Vanbastelaer, who told of the Senior Dance to be held April 18 at the high school cafetorium.
3/23/09
Lions Club Board approves more expenditures...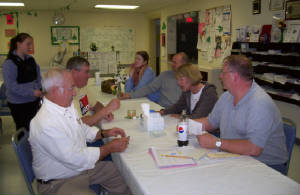 The Board of Directors of the Centerville Lions Club met following the regular March 23 meeting to approved several expenditures. They included $50 to the Cope Environmental Center for Earth Day activities. They also voted another $50 to each of the nine State Lions projects. That brings to $100 for each of the projects this year.
The board also voted to give $100 each to Shawn Sizemore and Katy Temple for their student exchange trip to Spain. And they voted to sponsor a CYL team for $100 along with $150 for an outfield advertising sign at the ball park.
3/23/09
Africans helped with eye problems...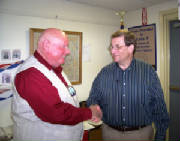 Lion John Prall introduced Dr. Steven Stoller
Opthalmologist Dr. Steven Stoller of Richmond told Centerville Lions Monday evening, March 9, about his medical trip to Africa. He treated many persons and assisted adminstrators of the eye clinic. Stoller made a powerpoint presentation of his two week trip. He was introduced by Lion John Prall.
Lions Vice President Kevin Sparks presided at the meeting in the absence of President Mark Robbins. The club voted to donate $50 to each of the 9 State Lions Projects.
3/9/09
Lion Charlie Killen has died...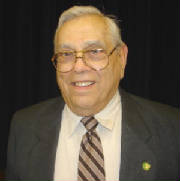 Centerville Lions Club oldest member has died. Charles L. Killen, who was 83, died Wednesday morning, January 7, at Pinehurst Nursing Home. Charlie joined the club on April 29, 1958 and served as president in 1962-63. He was recognized for 50 years membership at the club's April 14, 2008 meeting. He was recipient of the Community Award in 1988 and again in 1996 with his son Gary.
Killen was hospitalized in mid-December; then transferred to Pinehurst for therapy. His son, Gary, said on January 5 that his father suffered a couple of seizures and a possible stroke.
Survivors include his son, Gary and daughter, Pam (Killen) Lamb-Johnson, several grandchildren and great grandchildren. He was preceded in death by his wife, JoAnn Killen, in 1994.
Visitation will be Friday from 4-8 p.m. at the Centerville Christian Church where he was a member. Masonic and Scottish Rite services will be conducted at 7 p.m. Members of the Centerville Lions Club will meet at 6:30 p.m. Services will be held Saturday at 2 p.m. at the church. Burial will be in Crown Hill Cemetery in Centerville.
He had been active in many communty projects including Archway Days Festival each August, Centerville Music Boosters, Centerville Bicentennial Celebration in 1976, Christmas in Centerville, Promote Centerville, Inc., and was a 50 year member of Hiram Masonic Lodge #417 in Centerville and Indianapolis Scottish Rite.
He was fire chief for 20 years of his 28 years with the Centerville Volunteer Fire Department and was past president of the Wayne County Fireman's Association.
He owned and operated Killens Service Center in Centerville since 1957.
1/7/09
Lion Vic Culy dies...
Roy Victor "Vic" Culy, age 94, of Centerville, died Wednesday, Jan. 28, 2009, at Reid Hospital following a brief illness. He resided his last two years at Pinehurst.
Visitation for Roy V. Culy will be from 1-3 p.m. Saturday, Jan. 31, 2009, at Doan & Mills Funeral Home, 790 National Road W., Richmond. Funeral service will be at 3 p.m. Saturday at Doan & Mills. Burial will be in Crown Hill Cemetery with military honors by the Wayne County Honor Guard.
Memorial contributions may be made to: Centerville United Methodist Church, 112 S. Morton Ave., Centerville, IN 47330; Centerville Lions Club, c/o Phil Benedict, 401 N. First St., Centerville, IN 47330; Centerville Senior Center, 111 S. Second St., Centerville, IN 47330; or a charity of your choice.
1/29/09
Mother of Lion McConaha dies...
92 year old Elinor L. McConaha of Centerville died Wednesday, January 28. She was the mother of Lion Tim McConaha. Visitation for Elinor L. McConaha will be from noon-2 pm, Saturday, Jan, 31, 2009, at Mills Funeral Home, 405 E. Main St., Centerville. Funeral service will be Saturday at 2 p.m. at Mills Funeral Home with Rev. Laura Altman officiating. Burial will be in Crown Hill Cemetery.

Memorial contributions may be made to Adult Day Care of Richmond, 2727 E. Main St., Richmond, IN 47374; or Centerville Senior Center, 111 S, Second St., Centerville, IN 47330.
1/30/09
CHS Jazz Choir performs...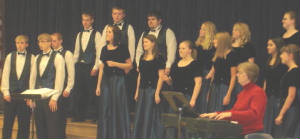 The Centerville High School Jazz Choir performed for the Lions Club Annual Christmas Banquet Monday evening, December 8. They performed several familiar jazz numbers including some Christmas renditions. A female trio and quartet also performed.
12/8/08
Basketball coach is optimistic...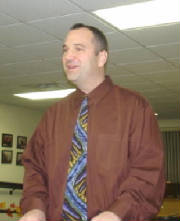 Coach Ryan Chiddister
Centerville High School basketball coach Ryan Chiddister is happy with the type of kids on the varsity team this year. Speaking before members of the Centerville Lions Club Monday evening, November 24, Chiddister said seven of the nine major players have grade point averages of 3.5 or better. And he said the team chemistry is as big an anything... how they get along.
He said he is pleased with the work ethics of the team. The only difficulty is that they have had only one and half weeks to work together before the first game (November 26).
Chiddister, who had commuted from his home in Greenfield, now lives in Centerville.
Note: The Centerville Bulldogs won its opener with Eastern Hancock, 47 to 35.
11/24/08
Club changes investment funds...
In a move to more than triple its income, members of the Lions Club approved a change in investment funds Monday evening, November 24. The investments will continue at Wayne Bank and Trust Company, but by putting the funds into a 17-month C.D., the club will realize a 3.5% return.
11/24/08
Model Legislature explained...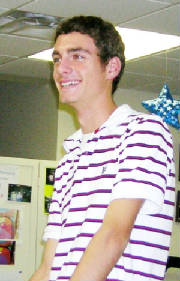 Austin Vanbasteler
Centerville-Abington Community Schools Superintendant and Lions Club member Phil Stevenson brought the Eastern Indiana Model Legislature Governor to the November 10 meeting to explain how it works. Stevenson has been a sponser of the Legislature for twenty years.
A high school junior, Austin Vanbasteler told members of several bills he brought to the legislature and said he vetoed a few. He said the legislature even tried to impeach him. The bills included topics of BMV, scholarship, education, hunting, sports and energy.
Community Halloween Party chair Lion Jeff Nickels said the event was the least expensive in several years... mainly because he forgot to purchase donut holes for attendees. He estimated, from the dollar bills handed out to the kids, about 120 costumed Halloweeners were there.
And it was noted that Lion Charles Killen as back in the hospital with kidney problems.
11/10/08
Halloween numbers down...
Interest in Halloween may be on the decline... both from Lions and attendees. Attendance was down in both categories at the annual Community Halloween Party Friday evening, October 31. There were around 140 who came to the Centerville Elementary School gym to party.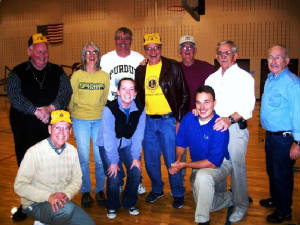 The ten Lions who showed up to work the Halloween Party
And only a fourth of the Lions membership showed up to operate the party. Most had to to work two games. Those who did come enjoyed the games and the cake walk, along with the costumes.
11/1/08
Lions updated on new hospital...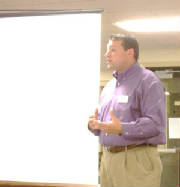 Jason Troutwine of Reid Hospital
JasonTroutwine of Reid Hospital told of the move from Old Reid to the new building and how smoothly it was completed. He showed slides of the move and the new facility. He also answered questions and invited all members to visit. An official certificate was presented to him.
Mark Robbins conducted the business meeting. He stated that the Vision Training would be Nov. 8th from 1 to 3 pm at Hope Indiana Lions Club.
Also, Jill Moore, sponsor for the Leo Club, spoke about their first meeting and she stated there are 3 girls in the club so far. They will be inducted at the Christmas party.
The club will provide Christmas baskets of food and gifts to 2 local families thru the Salvation Army this year. Each will total $250.
Christmas in Centerville is Dec. 13th and the Club will sell Holiday Wreaths. Jeff Nickell is chairman.
The Lions Halloween party will be Oct. 31st at the grade school with cake walk, games, costume judging and prizes along with refreshments. All members are urged to help, since Centerville is playing a tourney football game that same night in Centerville.
10/27/08
Helping high school athletes attend college...
Mike Walker of Post Your T
No plumbing at home when he was a kid prodded Mike Walker to go out for sports so he could take a shower. And he said his football coach helped him get into college. That's what Mike Walker is doing today. As a former high school and college coach, he is director of
PostYourT.org
. The "T" is for Talent. Walker runs the web site as a recruiting tool for coaches from over 300 colleges including all Indiana institutions.
Walker, a member of the Pendleton Lions Club, says "95 percent of high school athletes are not superstars, but many of them have dream to play college ball somewhere and get their education.
The program covers soccer, basketball, softball, baseball and golf for both boys and girls.
Walker addressed the Centerville Lions Club Monday evening, October 13, seeking support for the program. PYT is asking businesses and club to sponsor a high school for a donation of $300. The Centerville Lions Club is considering the proposal.
Walker is a Crawfordsville High School Hall of Fame member and was a member of the 1958 1st team All-State.
10/13/08


Lions end year with picnic...
The Centerville Lions Club ended it year with a picnic at the home of Lion Phil Benedict and his wife, Toni. After enjoying a meal, featuring left over baked beans from the Fish Fry, those attended either talked around the table or retired to the back yard for a game of corn-hole or talk.
6/23/09
Leos elect officers...
The Centerville High School Leos Club has elected officers for next year. They are Natalia Liu, president; Sierra Bunch, vice president; Austin VanBastelaer, treasurer; and Nicole Orsborn, secretary. They will be installed at an upcoming Lions Club meeting.
The club, sponsored by the Centerville Lions Club, will meet on May 19th to discuss activities during the summer.
5/11/09
New officers elected...
Officers for 2009-2010 were elected by the Centerville Lions Club Monday evening, May 11. They will be installed at the June 8 meeting. They are president, Kevin Sparks; vice president, Anne Allen; 2nd vice president, Mike Flanagan; secretary, Wendy Kornman; assistant secretary, Courtney Amos; treasurer, Jeff Nickell; assistant treasurer, Tim McConaha; tail twister, Paul Elstro; assistant tail twister, Phil Benedict; Lion tamer, Allan Spencer; assistant Lion tamer, Bob Blue. Board of Directors, Mark Robbins and Bob Blue, two years; and Bill Felker and Mike Poynter, one year.
Lion Jim Resh presented the program. He showed slides of the club's activities insce the early 1960s. He stressed the various projects the club sponsored during the years.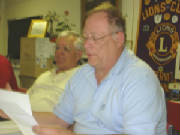 Lion President Mark Robbins
Lion President Mark Robbins presided over a board meeting following the regular May 11 Centerville Lions Club meeting. The board approved a $75 expenditure for Basketball Camp. The also briefly discussed the upcoming Fish Fry on June 19 and 20.
5/11/09
Committee changes Fish Fry date...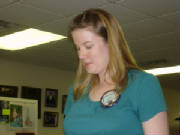 2nd V.P. Anne Allen
The Fish Fry Committee has changed the date of the Annual Fish Fry from the second weekend of June to June 19 and 20. Committee spokesman Phil Benedict attributed the change due to several members of the committee being unable to be available during the second weekend.
Ticket prices remain the same as last year: $6.60 advance sales and $7.50 at the door. The public may call 765-967-1296 for advance tickets or see any member of the club.
The complete meal will consist of Fish, hamburger or cheeseburger, hot dogs, baked beans, french fries or hush puppies and drink. Dessert will be extra..
The Fish Fry will be held again at the Centerville Municipal Building at 204 E. Main Street from 11 a.m. to 8 p.m. each day.
The April 27 meeting was conducted by 2nd vice president Anne Allen in the absence of Lion president Mark Robbins, who was ill.
4/27/09
Lions approve expenditures...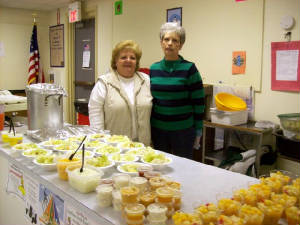 Darlene Robbins and Linda Erk serve spagetti dinner to Lions
With icy, inclement weather, only twelve members turned out for the February 23 meeting of the Centerville Lions Club. The club did approve a couple of expenditures.
$495 was allocated to the Centerville Volunteer Fire Department to purchase a new, complete dress uniform in memory of Lion Charlie Killen. Killen served as fire chief for many years.
The club also voted to donate $250 to the Circle U pantry in Richmond.
In other business, Lion Robert Moore report the Leo Club at Centerville High School will hold a "Senior Prom" for seniors April 18 at the school. Lion Wendy Kornman read a leetter from Camp Woodsmoke stating that March 14 will be Cleanup Day at the camp. All members are invited to help at the camp. Lion Jim Howell, chair for the annual Community Awards Banquet, reported plans are moving along for the April 14 event. Cost of the meal will be $11.00. Leos are also being invited. Howell also said the new golf cart in in and the logo looks great with new signs on it. The cart will be used at school functions to transport the elderly and disabled.
The Club was advised the Economy Lions Club will celebrate its 50th anniversary on April 28 with a banquet at the West River Friends Meeting. Cost is $10 each and members of the Centerville Lions Club are invited to attend.
2/23/09
Leader Dog visits Lions Club...
Richmond Lion Mark Harris tells about his Leader Dog Callie
Leader Dog Callie brought her master Lion Mark Harris with him to the Centerville Lions Club meeting Monday evening, February 9. Harris, a member of the Richmond Lions Club, explained the process of learning each other at the 30-day training school.
The 40 year old Harris and his wife, Judy, have one other dog and a cat at home. He said they all get along great. He went into detail of what the training entailed and many of the types of moves Callie does for him. Most important is having trust in the dog.
Lion Harris handed out information on how to approach a blind person with a leader dog. Such as "Do not pet a dog in harness". "Ask the owner's permission before touching the dog or making eye contact". "Approach the person on the right side as the Leader Dog is usually on the left." "Speak to the person, not the dog."
2/9/09
Assistant president Kevin Sparks conducts meeting
President Mark Robbins, Secretary Wendy Kornman and Treasurer Jeff Nickels were absent from the February 9 meeting. Filling in for them were Assistant President Kevin Sparks, Assistant Secretary Courtney Amos and Assistant Treasurer Phil Benedict. Lion Benedict, who heads for Florida this coming week, said, "Sounds like a lot of filling to me."
There were 24 Lions and guests at the dinner meeting, catered by Darlene Robbins and Linda Erk.
2/9/09
Snowbirds from Centerville Lions...
Several Centerville Lions are spending some time in Florida this winter. Lions Tom Barker, Carl Orsborn, Bill Felker, Allan Spencer and Phil Benedict are among Snowbirds scattered throughout the Sunshine state.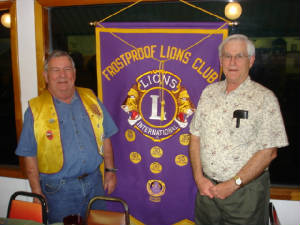 Frostproof Lions Club president Paul Huntzelman with Centerville Lion Bill Felker
Lion Felker visited the Frostproof Lions Club Tuesday evening (January 13). They meet at the Orange Box Cafe on U.S. 27. President Paul Huntzelman said they only have ten members, but are a very active club. They are planning on selling orange juice at the
Florida Flywheelers
22nd Annual Antique Engine & Tractor "Swap Meet" January 14, 15, 16 and 17. That is one of several fund raisers at the Flywheelers events.
1/13/09
DG Goldman pays official visit...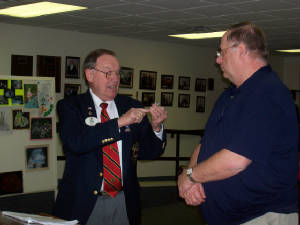 DG Goldman and Lions Club president Mark Robbins
25F District Governor Merle Goldman made an official visit to the Centerville Lions Club on January 26. He spoke of the many district meetings along with some of the projects.
Also speaking was Vice District Governor John Scott who touched on the emergency preparing kit which every family should have.
A member of the Nora Lions Club since 1982, Goldman served as its president in 1996. He is recipient of the Melvin Jones Award in 1998 and W.P. Woods Award in 2000. A teacher at the Indiana School for the Deaf from 1950 to 1993, he earned a Bachelor of Arts degree from Lynchburg College and Master of Science from the University of Tennessee. He and his wife, Nancy, have three sons.
Lion Robert Moore, subbing for his wife Lion Jill, reported on the Leo Club. He said they are again planning a Senior Dance for this spring.
1/26/09
Lions hear about girls basketball...
Tracey Crull, Program chair Kevin Sparks & Jason Searcy
Assistant Centerville High School girls basketball coach Tracey Crull spoke before the Centerville Lions Club Monday evening, January 12. He said the team has done well this year, winning the Wayne County Tourney last weekend at Hagerstown. He said they are looking foward to the sectional coming up in a couple of weeks. Also attending was head basketball coach Jason Searcy who said they were thrilled with the tourney win.
Crull also told of a fund raiser with Indianapolis professional teamsk such as the Pacers in which they raised around $1,000 for the team. He suggested members of the Lions Club could also raise money by selling refreshments there.
Club president Mark Robbins conducted a moment of silence in memory of Lion Charlie Killen who passed away last week.
Lion Phil Benedict was named Communications officer. He will be in charge of notifying members of meetings. The club also accepted the resignations of Nick Aughe and Roger Keep. That brings membership to 39.
Community Award chairman Jim Howell announced he would like nominations by January 31. The Award Banquet is April 13.
1/12/09
Leo officers installed...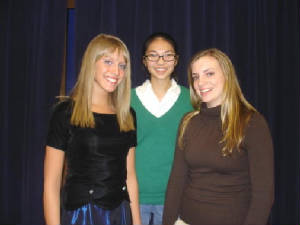 Secretary Randee Ferriell, Treasurer Natalia Liu and Leo President Heather Moore
Officers for the Centerville High School Leo Club were installed Monday evening, December 8, during the Lions Club annual Christmas Banquet at the high school. Club advisor Lion Jill Moore installed President Heather Moore (no relation), Secretary Randee Ferriell and Treasurer Natalia Liu. Vice President Brandon Ramsey could not attend due to a basketball game.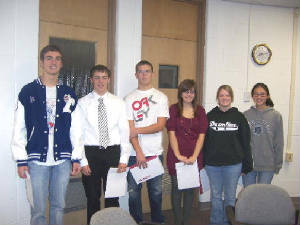 Austin Vanbastelaer, Shaun Sizemore, Brandon Ramsey, Sierra Bunch, Nicole Osborn & Natalia Lui
Six new members (above) were installed in a ceremony on December 2. Lions Jim Howell and Phil Benedict participated in the ceremony, along with advisor Lion Jill Moore.
The Leo Club meets every two weeks during the school year. Its next meeting is Tuesday, December 9 at 8 a.m. in the conference room at the high school office complex. Members of the Lions Club are encouraged to attend the meetings.
12/8/08
Leo Club entertains prospective members...
Leo Club advisor Lion Jill Moore, met with the Leo club for the first time on Tuesday October 11. Because of conflicts and what appeared to be lack of communication there were only 3 students who attended. The following Tuesday, (Oct 28,2008) she had another meeting in which Lion Phil Benedict attended with an attendance of 22.
Lion Phil said, "It certainly appears that there is quite a lot of interest in having the continuation of the Leo club. They seemed excited and ready to take on the task."
Benedict was certainly impressed not only with all that attended and their enthusiasm, but also the way that Lion Jill handled everything. He concluded, "Our club needs to be ready to help these young citizens make a success of this organization."
11/1/08
Lions plan for the holidays...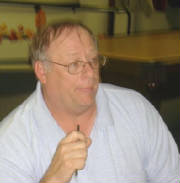 Lion President Mark Robbins
Lion Mark Robbins, president of the Centerville Lions Club, hopes to help unfortunate families this holiday season. Robbins proposed to the Lions Club board of director Monday evening, October 13, for assistance at Thanksgiving and Christmas.
The board talked of Thanksgiving baskets and gifts for kids at Christmas. Families to be helped will be selected by other organizations.
Robbins also appointed Lion Charlie Killen to seek financial supports from local organizations.
The board also approved a $500 donation toward the Courtesy Car at Centerville High School. The car would transport persons with disabilities to activities, such as to the soccer field. Lion Jim Howell, who proposed the project to the club, said the small vehicle would cost $2,500. With the Lions Club donation, only $150 remains to be sought.
10/13/08
State treasurer pays visit...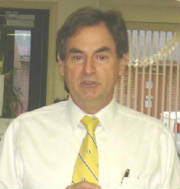 Indiana State Treasurer Richard Mourdock told members of the Centerville Lions Club Monday evening, September 22, that what is happening in the financial sector of the economy is not good for the country. But, he assured Lions that the state's economy is safe. He said the good news about the economy is that businesses in the state are doing well.
A former two term commissioner of Vanderburgh County, Mourdock was elected State Treasurer in November of 2006, taking office in February of 2007.
Richard holds a Master's Degree in Geology from Ball State University and a Bachelor's Degree from Defiance College in Ohio. He is a licensed Professional Geologist. He and his wife, Marilyn reside in Darmstadt just north of Evansville.
The treasurer of state is responsible for the safekeeping and investment of moneys and securities paid into the state treasury.
9/22/08